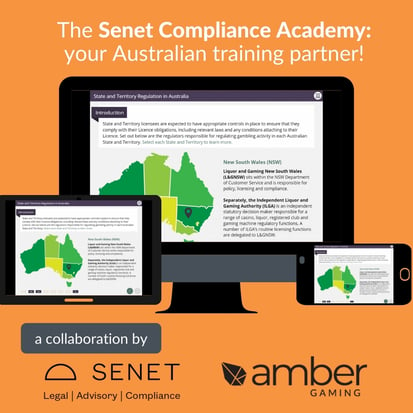 Amber Gaming and Senet have today launched the Senet Compliance Academy - a best in-class eLearning platform of gambling industry compliance training courses tailored specifically to Australian laws and regulations. The suite of gambling industry compliance courses will be delivered through the Senet Compliance Academy platform and will include key topics such as Anti-Money Laundering, Counter Terrorism Financing (AML/CTF), Compliance Culture, and Responsible Gambling, amongst other key learning areas with very specific sector scenarios for casinos, bookmakers, licensed gaming venues and lotteries.
Alexandra Hoskins, Principal at Senet's Compliance Academy, said "Building gambling compliance capability in leadership, management and customer facing staff is imperative to cultivating a strong organisational risk management and compliance culture. Scrutiny around compliance is rapidly increasing as gambling regulators and our community are rightly looking to ensure that companies and operators are putting policies and procedures in place to effectively and ethically control and minimise gambling harm.
Regulations in the Australian gambling sector are complex with many laws and regulations on a State and Territory basis, yet many operators are operating nationally, so we want to help support operators keep up to date and maintain the highest legal and regulatory compliance standards as well as community expectations."
Senet's specialist knowledge has been combined with Amber Gaming's technical expertise via the delivery of bespoke eLearning management platform which enables operators to not only distribute training content to their teams but also to track and assess results through its powerful analytics tools.
Julian Hoskins, Principal at Senet Legal, added "We are thrilled to launch the Academy and begin this legal and regulatory journey with our partners. Compliance is essential for every gambling operator and our partnership with Amber Gaming has allowed us to provide a scalable, best in class, learning solution that is underpinned by our legal and regulatory expertise and deep understanding of the jurisdictional nature of our laws and regulations in Australia."
Paul Newson, Principal at Senet Advisory said "With content tailored to each state, we can support organisations operating locally or with national footprints to meet discrete jurisdictional requirements. It is an exciting development for the Australian market, and we look forward to working closely with Amber Gaming to develop this learning environment for Australia's gambling sector."
Jade Zorab, Managing Director at Amber Gaming, commented "We are thrilled to partner with Senet to launch these courses to operators in Australia. Over the years, we have seen the positive impact that eLearning has for operators and their players, and we are pleased to offer the same opportunities to the Australian gambling industry community. We believe properly instituted compliance cultures protect people and companies, so we are committed to building a strong ethos of compliance across the industry. eLearning is integral to this, and we plan to expand our training courses and opportunities into even more new jurisdictions worldwide going forward."
The Senet Compliance Academy courses are available on a per course basis or subscription with perpetual access to all the courses and the Academy's in-depth analytics reporting tools. Users will also receive access to appropriate regulatory updates with the ability to undertake refresher training online throughout the year to enable greater compliance awareness and anytime, anywhere learning to suit employees' individual needs.
For more information, visit www.senetlegal.com/compliance-academy or contact Alexandra at alexandra@senetlegal.com